Trinidad is a colonial town in central Cuba, you can easily walk through.
I spent few days in Trinidad, and I would suggest that 2 nights and 3 days are enough to discover and enjoy the town.
Trinidad was unfortunately forged with the sweat of the black slaves, which combined with the Indian roots in the town and the European colonization, make the nowadays cultural identity of the town. Is a culture with a strong music and artistic identity, that you will easily feel walking through the stoned streets. Declared a World Heritage Site by Unesco in 1988
For its excellent state of conservation has been named as the City Suspended in Time and regardless the crowd of tourist the city keeps clean and tidy, ethical tourism is pretty much appreciated by the town's inhabitants.
WHAT TO DO IN TRINIDAD?
Walk through the town, it is easy to walk from wherever will be your Casa Particular to the town center, and explore the cobblestone little streets double named (it might be difficult at the beginning to get to use to the fact that streets here, and also in many other towns in Cuba, have a double name and sometimes the local remember only the first name, but just keep walking and memorize the most important to you).
Enjoy a drink in Plaza Major (main square), on the Cuban music background, both day and night time. You can simply sit down on the stairs or get a comfortable sits at "Casa de la Trova"
Visit the religious yet historical points: Iglesia Parroquial de la Santísima, La Casa de los Conspiradores, Iglesia y Convento de San Francisco, Palacio Brunet
Drop a visit to Museum for a deeper knowledge of Trinidad: Museo de Arqueología Guamuhaya, Palacio Cantero — Museo de Historia Municipal, Casa de los Sánchez Iznaga, Casa de Aldemán Ortiz, Museo Lucha (where you can enjoy an outstanding view of Trinindad)
for the sporty one : run in the very early morning (too hot otherwise) just a little outside the town, walking down to Calle Indipendencia, down to the hill you will find yourself straight away in the nature of the surrounding
OUTDOOR ACTIVITIES TRINIDAD:
Javira Waterfall at El Cubano:  located about 15km outside Trinidad, you can either walk (maybe 1 hour walk) or get there on a guided tour riding an horse (around 10/30 CUC both way, depends on the season and how much you can negotiate).
Waterfall Rocio : less known waterfalls yuo can get there still riding on a horse (10/15 CUC both way)
Sierra del Escambray : 18 km north to Trinidad offers other scenarios and opportunity for a good hiking and indulge in little waterfalls.
Playa Ancon: 13 km away from Trinidad, you can get there with a taxi collectivo which will cost around 10 CUC each way. The beach is almost white sandy, pretty and not crowded. It's a long beach so you will easily find a more isolated spot. Food and drinks at the bar are very affordable, local won't try to rip you off. Also local will pass by selling pizza or local snacks.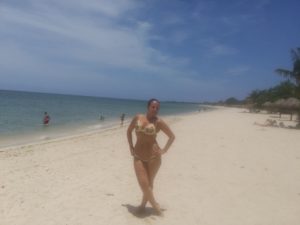 TIPS:
If you are coming from Havana you will rather get to Trinindad with a VIazul, but getting closer it might be more convenient to get a taxi collectivo if you can share the ride( just ask to your Casa or locals)
For the excursion, ask more than one person before to buy it and negotiate. Either you can buy them at every Cubatour points, but for a more expensive price
WIFI: very slow and limited to few main points, generally the main square. Hence more people connecting and a slower connection
Casa Particular : in low season you can easily find room for 15 CUC
respect the town, as is very old and small and crowded of tourist , so very easily to be ruined
Enjoy Trinindad
Mari